Cheap Inflatable BMX Landing Airbag from China Manufacturer
The Cheap Inflatable BMX Landing Airbag from China Manufacturer is a versatile and durable air-filled cushion designed to provide a safe landing surface for BMX riders. The Inflatable BMX Airbag is made of high-quality PVC materials that are both flexible and tough, ensuring that it can withstand the impact of even the most demanding stunts and tricks. This BMX Jump Airbag is particularly useful for BMX riders who are looking for a cost-effective solution to practice and perform their stunts safely. BMX Airbag is an excellent alternative to traditional foam pits, which can be expensive and time-consuming to set up.
Inflatable BMX Landing Features
Size can be customized, smaller or bigger
Made from high-strength, tear-resistant PVC material
Anchor points around the airbag to keep the landing securely in place
Feature a soft, forgiving surface that helps to absorb the shock of a landing
Portable and can be easily moved from one location to another
BMX Airbag Landing Details
1. Inflatable: As the name suggests, the landing is inflatable, which means BMX Airbag can be easily set up and taken down. It also makes it easier to transport and store.
2. Durable: Inflatable BMX Airbags are made of durable materials that can withstand the impact of the rider's landings.
3. Adjustable Air Pressure: The air pressure in the Inflatable BMX Airbag can be adjusted to make it softer or firmer, depending on the rider's preferences.
4. Multiple Chambers: Most Cheap BMX Airbags have multiple air chambers that provide extra stability and prevent the landing from tipping over.
5. Size: BMX Jump Airbags come in various sizes, depending on the intended use. They can range from small portable ones for individual use, to large ones for competitions or events.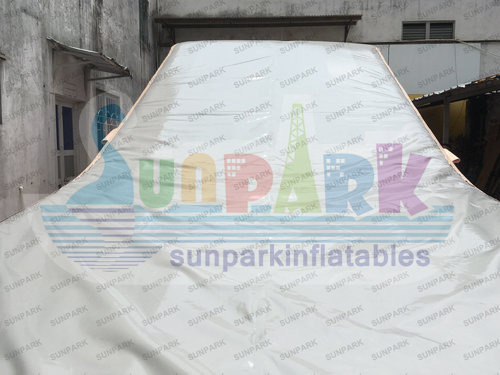 Product Parameters
| | |
| --- | --- |
| Model: | ABS-013 |
| Material: | 0.55mm PVC Tarpaulin for skate airbag, 0.9mm PVC Tarpaulin for top sheet, water-proof, flame-retardant, UV-protected, lead and phthalate free. 1000D inner material. |
| Size: | As picture or Customized |
| Color: | Same as picture or as per color sheet |
| LOGO Printing: | Available, Digital Printing or UV Printing |
| MOQ: | 1 Piece |
| Price: | Affordable and negociated |
| Trade Term: | EXW/FOB/CIF/CNF/DDP |
| Payment Method: | TT  (Wire Transfer) |
| Work with blower: | Sewing inflatables works with blower constantly |
| Production time: | 15 working days or so, it depends on how big and how many you want |
| Workmanship: | Double stitching everywhere, reinforcements made where it matters |
| Accessories: | Blower, repair kit, heavy duty carrying bag |
| Inflate and Deflate: | It takes few minutes to inflate, tread on inflatables while it deflate to leak air out faster. |
| Warranty: | 2 years |
Applications of BMX Jump Airbag
Inflatable BMX landings are a safe and practical alternative to traditional landing surfaces, providing a cushioned landing for BMX riders to perform their stunts and tricks, they can be used for more activities, such as MTB, FMX, Snowboarding, Skiing, Skateboard etc.
International Shipping Around the World
All the Inflatable Devices can be shipped worldwide by sea, by air or by international express logistics via DHL, FEDEX, UPS. You are welcome to get a free quotation by filling up the form with name, email, detailed address, product and requirements, we will shortly contact you with the full information including the most suitable delivery method (fast, secure, discreet) and freight.